http://video.fox17online.com?ndn.trackingGroup=91062&ndn.siteSection=wxmi_news&ndn.videoId=24968473&freewheel=91062&sitesection=wxmi_news&vid=24968473
http://video.fox17online.com?ndn.trackingGroup=91062&ndn.siteSection=wxmi_news&ndn.videoId=24968473&freewheel=91062&sitesection=wxmi_news&vid=24968473
A state vote on legalization may not win, but could at least start an important dialog
Published: January 11, 2012
The No. 1 story about marijuana in Michigan in 2011 was the wrath anti-drug warrior Attorney General Bill Schuette unleashed on medical marijuana facilities and users. Schuette used his bully pulpit and legal resources to intimidate dispensaries, people who work at dispensaries, people who grow marijuana and medical marijuana patients — working with friendly county prosecutors (particularly in Oakland County), federal authorities and state legislators to try to put the medical marijuana genie back in the bottle.
Marijuana legalization activists are working hard to make 2012 a very different story. In reaction to Schuette's tactics, a group calling itself the Committee for a Safer Michigan is kicking off a campaign this week to amend the state constitution and flat-out legalize marijuana for adults. This is a citizens' initiative that requires collecting 322,608 valid signatures in order to get on the fall ballot.
"The Michigan Medical Marihuana Act was passed in an effort to remove patients from the line of fire," says CSM spokesperson Charmie Gholson. "They are increasingly investigated in a backlash to the MMMA. The sick and dying are in harm's way. We want law enforcement to focus on violent crime instead of going after patients and caregivers, which is increasingly happening."
Lucia Graves
This e-mail address is being protected from spambots. You need JavaScript enabled to view it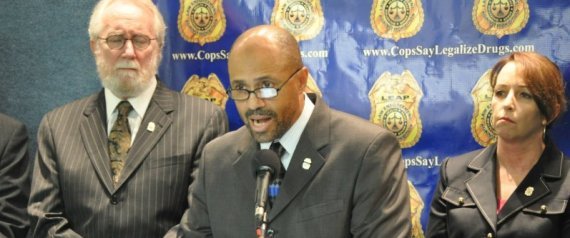 WASHINGTON -- Forty years after President Richard Nixon first declared a war on drugs, the officers who fought in it are calling for a truce.
Former law enforcement officials gathered in the District of Columbia on Tuesday to announce their new report. It details the failures of the government's long battle against illegal drugs and denounces the Obama administration's current drug policies.
"Since President Nixon declared 'war on drugs' four decades ago, this failed policy has led to millions of arrests, a trillion dollars spent and countless lives lost, yet drugs today are more available than ever," said Norm Stamper, former chief of police in Seattle and a speaker for legalization-advocacy group Law Enforcement Against Prohibition.
"President Obama's drug officials keep saying they've ended the 'drug war,'" the LEAP member said. "But our report shows that's just not true, and we'll be hand-delivering a copy to the drug czar in hopes he'll be convinced to actually end this war, or at least stop saying he already has."
The officers' announcement came just weeks after the Global Commission on Drugs -- which includes former United Nations chief Kofi Annan and past presidents of Mexico, Brazil and Colombia -- released a report urging a non-criminal approach to world drug policy.
The commission's recommendations were reportedly dismissed by both the Obama administration and the government of Mexico. With the support of the United States, Mexican President Felipe Calderón began a crackdown on drug cartels in 2006.
The intensification of the war on drugs in Mexico has led to nearly 40,000 deaths in turf battles, the LEAP report notes. From 2009 to 2010, drug-related killings in that country increased by 60 percent.
The Obama administration's drug czar Gil Kerlikowske declared a ceasefire over two years ago. But critics say that what he really wanted to end was the war analogy in U.S. drug policy.
With their new report, members of LEAP hoped to take on the administration for "ramping up a drug war it claims it ended." But they had to leave their grievances at the door.
When LEAP officers tried to deliver a copy of their recommendations to the the former Seattle police chief who now heads the Office of National Drug Control Policy (ONDCP), Kerlikowske refused to meet with them. Instead, he sent a staffer to the lobby to receive the document.
ONDCP spokesman Rafael Lemaitre responded to HuffPost in an email Wednesday night: "This Administration has been clear that our Nation's drug problem is a public health threat that we cannot arrest our way out of," he said. "Our new public health approach to drug control emphasizes education and treatment. In fact today, the Federal Government spends more on drug education and treatment than on law enforcement in the U.S."
From ONDCP's response statement:
∙ This year, the U.S. Federal Government spent over $10 billion on drug education and treatment – more than on domestic law enforcement ($9.2 billion).

∙ We have been clear that we cannot arrest our way out of the drug problem. In August 2010, the President signed the fair sentencing act which reduces the disparity in the amounts of powder cocaine and crack cocaine required for the imposition of mandatory minimum sentences and eliminates the mandatory minimum sentence for simple possession of crack cocaine.
"It wasn't hard to put together a report showing how the Obama administration continues to wage the failed 'war on drugs' even while pretending to end it," said Stamper. "Although President Obama has talked about respecting states' rights to enact medical marijuana laws, his [Drug Enforcement Administration] has raided state-legal medical marijuana providers at a higher rate than under the Bush administration."
"Similarly, this president has continued a Bush-era budget ratio that heavily favors spending on punishment over providing resources for treatment, even though he has said drug addiction should be handled as a health issue," he added.
In the past week more than 2,500 people have sent letters to Obama through LEAP's website asking the president to transform his administration's rhetoric about ending the war on drugs into policy reality. But if this week's rally is any guide, the odds of an affirmative response from the White House look low.
"The fact that [Kerlikowske] refused to sit down with us and discuss these issues speaks volumes about how much the Obama Administration would rather ignore the failed War on Drugs than do anything to actually address it," said LEAP Executive Director Neill Franklin, a former Baltimore narcotics cop.
"When President Nixon declared the 'drug war' in 1971, we arrested fewer than half a million people for drug offenses that year," he added. "Today, the number has skyrocketed to almost two million drug arrests a year. We jail more of our own citizens than any other country in world does, including those run by the worst dictators and totalitarian regimes. Is this is how President Obama thinks we can 'win the future'?"
Posted by Ninja Smoker at 11:38 pm on November 3, 2011
California medical cannabis patients are rallying in Sacramento on Nov. 9 against the recent attack on the medical marijuana community.
The protest website states that "federal efforts to shut down licensed dispensaries in California is a full-frontal attack by the Obama Administration." Organizers at Americans For Safe Access are urging patients to take a stand at this peaceful protest saying, "cutting of safe access for patients pushes those patients into an illicit market to obtain their medicine."
Organizers also urge patients to flood the White House hotline to "tell Obama to stop wasting federal enforcement resources on medical marijuana" and to "make sure that marijuana is the number one thing the President hears about."
Several Sacramento area advocates have stepped up to offer support for patients coming in from out of the area. Offers of RV parking, camping areas, spare rooms, floor space for sleeping and cooked meals can be arranged to assist YOU in being a part of this peaceful protest event. To connect with this assitance or offer help for traveling patients, please contact This e-mail address is being protected from spambots. You need JavaScript enabled to view it .
What: Rally to Protect Patient Rights – Peaceful Protest In Sacramento
When/Where: Nov. 9, 12pm-11:30pm at U.S. Attorneys Office, 501 I St., Sacramento.